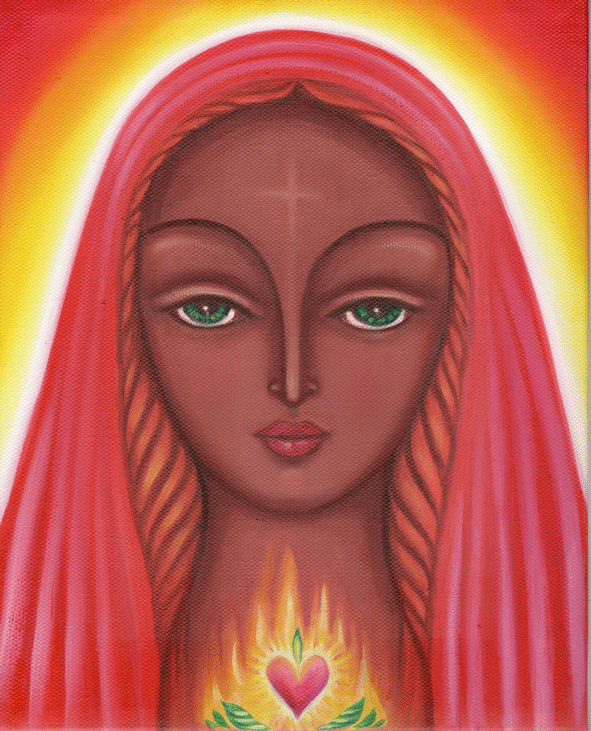 Mary Magdalene's Fire, by Tanya Torres, Oil on Canvas, 8" wide x 10" high, 2018-2022
This summer was a time to express everything that was inside. I worked most of the summer, but at the same time, I was able to work more humanly and had free time to draw, paint and plan. I spent a lot of time on my own, and in the process, I did the work that allowed me to reemerge lighter and with a sense of excitement and hope.
It all happened after the Mary Magdalene Celebration was complete. I spent a whole day in bed, so exhausted that I didn't want to move. It was intense, but after that, I started being able to think again, to plan and to sit down and work. It was the continued miracle of the Magdalene in my life.
One of the pieces I was able to work on and complete, is a painting I began in 2018. It was in my house in Puerto Rico, and always seemed incomplete and missing the glow of the Magdalene. This time, I packed my oil paintings, but was still not ready to begin a painting, so I decided to work on this piece and see if I could transform it into what it was meant to be.
I painted a little every day, starting with the background, just because it's easier, and finally I was able to face the face, and find it.
Even though this is the only painting I completed, I is an important part of the journey. I started it when I was in Puerto Rico after having to move from my house in NYC, a time when, I see now, my paintings were not finding their light. My own light was quite dim!
This Mary Magdalene of Fire, helped me light my own energy, fix problems, and get to work on two special projects that I hope will take shape in the next few months. For now, I'm happy I have an image for the Mary Magdalene Celebration 2023, which will take place in person and in zoom on July 22, 2023. Save the date!